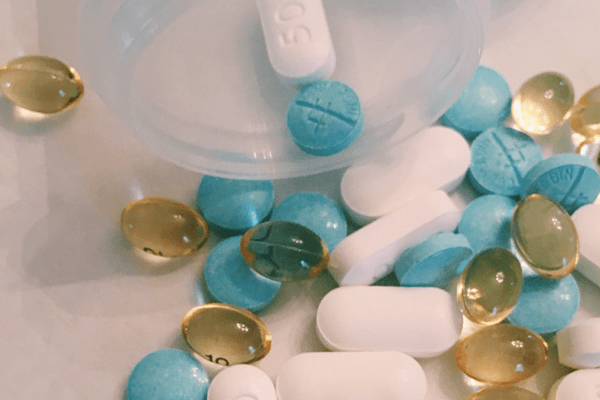 Nutritional supplements have varying degrees of success in treating migraines and keeping migraine levels consistent. Here are a few that have promising studies.
Nutritional Supplements for Migraines
Riboflavin
Riboflavin, or B12, is the most thoroughly studied supplement for migraines. (See our in-depth article on Riboflavin by clicking here.) Taking high-dose riboflavin has been shown to decrease migraines by 2 a month in most populations. Taking riboflavin in combination with other migraine treatment also significantly reduces migraine pain.
Magnesium
Magnesium is so effective for acute migraines that emergency rooms will often administer an IV of magnesium sulfate to stop a migraine. Studies show that magnesium levels drop during migraines, and two intensive studies have shown that oral magnesium may be key in preventing migraines. Magnesium may need 3–4 months at levels at 600mg and above before you see any effect.
Coenzyme Q10
CoQ10 is a supplement shown to affect muscle contraction and protein production in the body. Studies have shown that taking 150mg per day for at least 5 weeks resulted in a 61% reduction in migraines in half the patients who took it. No significant side effects were shown in therapeutic levels of CoQ10.
Feverfew
Feverfew is an ancient herb found in most health food stores. Feverfew is used by some people as a preventative supplement, though most studies have shown feverfew has no significant effect on the frequency or severity of migraines. Many people choose to use feverfew because it can be grown in your home and used in tea or meals.
Butterbor root
This German root that originated on the banks of the Rhine River and is toxic in its raw form. Distilled and cooked, butterbor has been shown to decrease inflammation in the body, which can have positive effects on migraines and other conditions, like asthma. Butterbor root is somewhat controversial — it's been banned in the United Kingdom because of potential liver toxicity.
Our Team: We are Here to Help
We are a small, dedicated app development team that wants you to better understand your migraines and triggers. Everyone on the team has lived with migraines at some point in their lives. We are your community, and we're here to help. Reach out any time with questions. [email protected].
As always — please seek the advice of a doctor for medical questions. Our app team cannot give medical advice.
Track Your Triggers
Get the Migraine Insight Tracker – iOS App Store


Write to us [email protected]