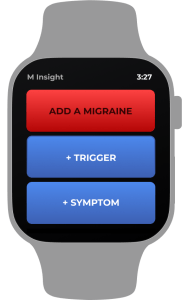 Coming soon – even easier tracking. Our Apple Watch app will allow you to easily add trigger events to your log as they happen.
Apple Watch – Coming Soon
Track Your Triggers
Tracking triggers when they happen is a critical component of finding the right triggers. The apple watch component of Migraine Insight lets you more easily track in real time.

Add Migraines
One button press to record a migraine. This makes it really accurate to when the migraine started. You can open the app to add details later.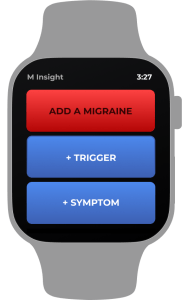 See Today's Triggers
Not sure you recorded a trigger? Look through today's triggers on the Apple Watch app. 

Our Team: We are Here to Help
We are a small, dedicated app development team that wants you to better understand your migraines and triggers. Everyone on the team has lived with migraines at some point in their lives. We are your community, and we're here to help. Reach out any time with questions. [email protected].
As always — please seek the advice of a doctor for medical questions. Our app team cannot give medical advice.
Track Your Triggers
Get the Migraine Insight Tracker – iOS App Store


Write to us [email protected]